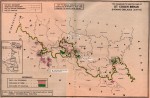 UK Minister Nick Harvey (why do so many coalition Ministers sound like posh shops?) floated the idea yesterday that a post-independence Scotland might tolerate handing over Faslane to the rump UK so they can continue their nefarious and implausibly expensive nuclear hobbies unhindered. The comparison was made to Guantanamo, America's torture base on Cuba by disputed permanent lease.
It's no wonder UK Ministers are considering it, too: the costs of decommissioning would be enormous (and UK Ministers want Scots to bear a proportion: thanks, but no), and as was reported earlier this year, there is no plausible English, Welsh or Northern Irish base for Trident and any post-Trident subs.
Pleasing as it is to see the coalition taking independence seriously, many Scots inside and outside the SNP think this sounds about perfect. We chuck Trident out and Westminster has nowhere to put it. An independent Scotland would be able to do what Scotland has never achieved within the Union: deliver a disarmed British Isles. And obviously that's my preference too. What a great first contribution as an independent nation that would be.
That having been said, how daft is the exclave idea? They're surprisingly common around the world. Some are exclaves within exclaves. The map above shows, amongst other things, an Indian exclave within a Pakistani exclave within an Indian exclave within Pakistan. It'd be like leaving Faslane within the UK, but keeping the mess-hall Scottish, except the kitchen, which'd also be part of the UK. Let's not do that.
But if we did for some reason have to swallow this unpleasant idea, it'd also be a massive bargaining chip. What would it be worth to the rump UK to be able to keep its massive penis substitute afloat? As I found myself discussing with a Labour-supporting friend this morning, perhaps we could swap it for a bit of England or Wales? Berwick-upon-Tweed is a bit obvious, and besides they'll probably join an independent Scotland of their own accord at some point anyway.
We agreed that some sun and sea might be nice, but that Blackpool was maybe not far enough south to get best value. Bournemouth might be an easier ask than Brighton, perhaps, although Brighton is as far as I know the only part of England to have been represented by an SNP Councillor. Perhaps they'd vote to join us: we wouldn't want just to annex them, after all.
Given the multi-billion pound value of this theoretical swap, though, why not aim high? There are a fair few Cornish who would like to be independent: perhaps we could invite them to join an alternative union across the British Isles? Maybe the Welsh would feel happier partnering with us at that point too..